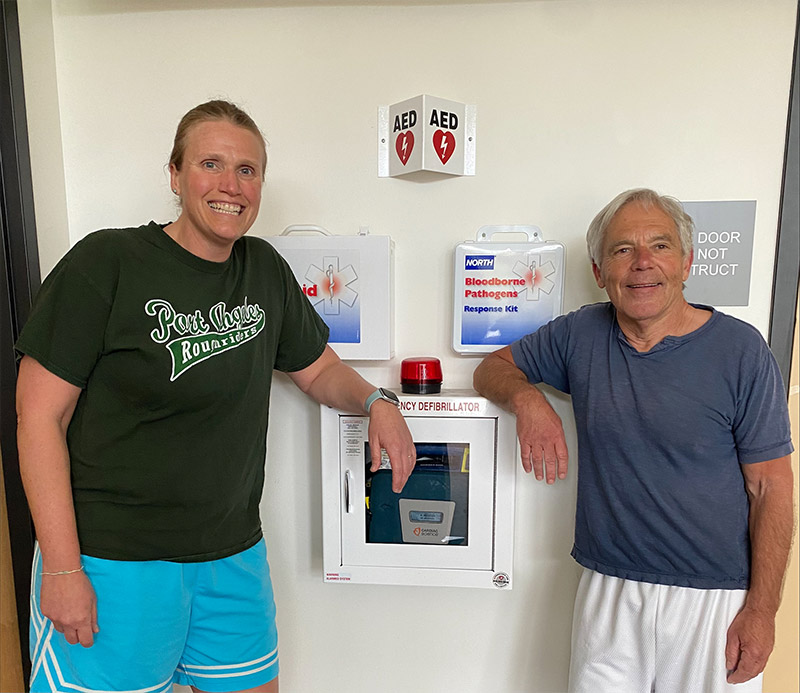 On April 26 former Peninsula College faculty member and "Noon Hoops" regular, Bob Lawrence, collapsed on the basketball court in the gym from cardiac arrest during an adult recreational event. His quick-thinking teammates sprang into action. 
With help from PENCOM, Allison Mahaney and Mike Aldrich performed CPR while Randy Stone and Matt Rosener applied the Automated External Defibrillator (AED) which administered a shock prior to the arrival of the Port Angeles Fire Department (PAFD).
Upon EMS arrival, the patient was awake and talking.  EMS personnel stabilized Bob and prepared him for transport to Olympic Medical Center. 
AED's have been successfully used twice on the college's Port Angeles campus. PAFD helped facilitate the acquisition of the first device in 2007, donated by the Port Angeles Rotary Club. There are currently 13 AED's on the college's Port Angeles campus.
Approximately 1,700 lives are saved in the US each year by bystanders using an AED, according to the National Institute of Health. With early bystander CPR and a defibrillation shock provided within less than three minutes after collapse, the AED survival rate can be as high as 74% for patients with ventricular fibrillation.
Lawrence recovered in a Tacoma hospital, where he received a defibrillator implant.
"My buddies saved my life and should be honored," he said. "I am so grateful for them every day!"
 
PHOTO: "Noon Hoops" members Allison Mahaney and Mike Aldrich pictured with an AED