For 20-year-old Kaleb McCartney, the journey from a college student in Port Angeles to his dream job as an underwater welder in the Gulf of Mexico has been a fast-tracked one, filled with fun and adventure. When he was hired on March 28, he Facebooked his many friends and followers: "New Orleans!! And I'm officially hired on at Bisso Marine!! Super stoked!!"
Although he would ultimately like to work internationally doing deep-water salvage work, he's very happy right now to be starting out working offshore in the Gulf of Mexico. It's the fulfillment of a career goal he set for himself when he was a Running Start student at Peninsula College. Even then, he knew exactly what he wanted to do―welding.
A Natural Choice
McCartney has always liked working with his hands and building things, so welding was a natural choice. After all, he says with a smile, "Who doesn't want to use tons of electricity and fire and occasionally blow stuff up and make a good living doing so"?
He also knew welding would be a good career choice, with a solid future and the chance to make good money. "Many people don't realize how much welding is present all around them," he says. "If you walk around the PC campus, you find welds on almost everything― handrails, beams, towers, fences―miles of welds. Welding can get you employed anywhere in the world, and it will always be needed,"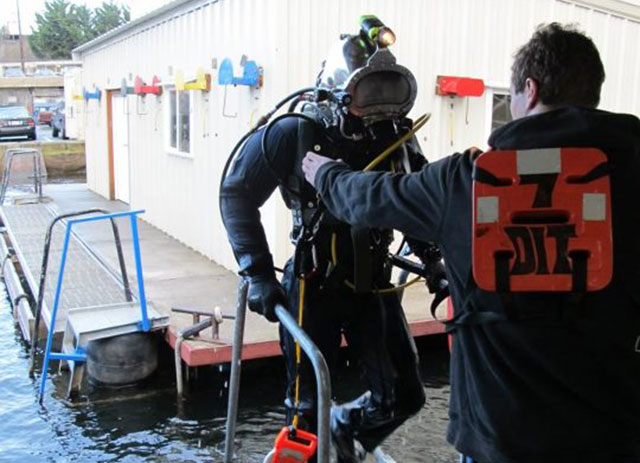 The Best Fit
By his senior year in high school, McCartney had enough credits to graduate so he looked into the possibility of taking welding courses full-time. "I looked into other college welding programs, and Peninsula College seemed like the best fit for me. The instructors are awesome, and they will teach you everything you want to know and then some," McCartney says.
There were a few other factors that also played into his final decision: "Being in Port Angeles helps you get a foot in the door with local companies," he says. He knew that without a welding certificate, it would be tough to get on-the-job welding experience, and he also knew "the right training could mean the difference between me and another guy when it came to getting a job."
Getting Hooked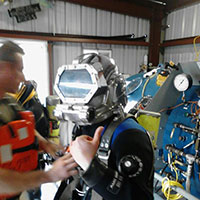 As he took more and more welding courses, McCartney found himself really getting hooked on the whole idea of welding as a career, especially when he saw the doors that would be open to him with a degree. With that in mind, he completed his Associate of Applied Science and several AWS welding certificates, graduating from Peninsula College in June 2012. It was at that point that he began to look at the possibility of becoming an underwater welder.
"I didn't enter the welding program intending to go into diving," he says. "Being an underwater welder always seemed like some crazy suicide career."
However, after researching the field carefully and checking it out, it seemed like a perfect fit for him, and his PC instructors Jeramie O'Dell and Eoin Doherty were very supportive. They encouraged him to apply to the prestigious Divers Institute of Technology (DIT) in Seattle, an underwater welding and commercial diving school known for training "the best of the best."
Teaching His Classmates
DIT is currently one of only two programs in the United States to offer International Certification and the first to offer it in this country. The certification is awarded and administered by the Divers Certification Board of Canada (DCBC) under the guidance of the Canadian Standards Authority (CSA), and allows DIT graduates to work globally.
McCartney says training at the Divers Institute was intense. "It's a very fast-paced course that covers all aspects of commercial diving in a short period of time. My training at Peninsula College definitely helped me during the three-week underwater burning and welding section. Only six days are spent covering "dry welding," and if you have never done it before, there's nowhere near enough time to get it down. I was basically teaching my classmates."
The Pay Off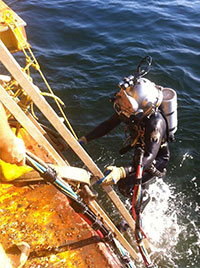 The intense training paid off. When McCartney graduated from DIT on March 7, he immediately had four job offers from salvage and underwater welding companies in the Seattle area as well as a bit further afield, but it was the Gulf that drew him. Following a telephone interview with Bisso Marine, one of the biggest underwater salvage companies in the Gulf area, he was invited for a face-to-face interview and the rest, as they say, is history.
"Kaleb McCartney is an excellent example to all students that if you work hard and apply yourself, success will come," says PC welding instructor Eoin Doherty. "For a local lad it's great to see a success story like this. All of us here at the Peninsula College Welding Program are proud of him and wish him well in the future."
McCartney has some advice for others who are interested in a career in welding. Get to know what you are getting into, he says. "Talk to people that have been doing it for a while, and make sure it's a good fit for you. Welding is a great skill, but being a 'welder' doesn't mean that's all you do. You have to be flexible. Welding is sort of like diving in the sense that a 'welder's' job is typically 90% preparation and set up and 10% welding.  The more feathers in your hat the better off you are." And by feathers, he means training.
---
Learn more about the Welding program at Peninsula College
www.pencol.edu/proftech/welding
Email the instructors at:
edoherty@pencol.edu
jodell@pencol.edu
You'll be glad you did.