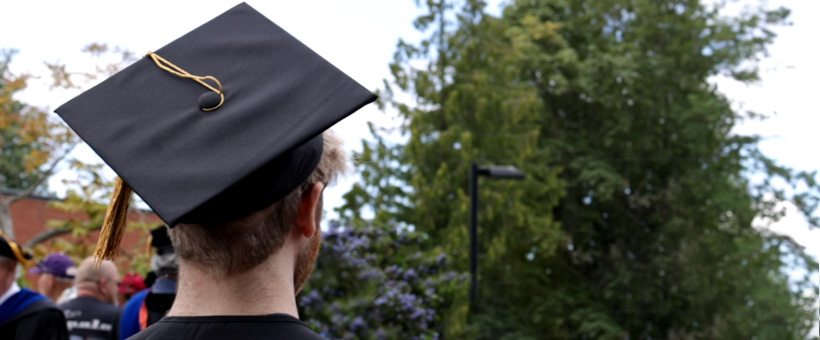 Earn your four-year degree at Peninsula College.
With online courses for working adults, our four-year Bachelor of Applied Science (BAS) degree programs fit your busy life. You'll learn applied skills, which means you get practical training that you can use in the real world. Best of all, you might qualify for Worker Retraining funding, which covers college costs and does not need to be paid back.
Our BAS program accepts students throughout the school year. You'll want to enter the program with college-level math and writing skills, and a basic working knowledge of Microsoft Excel. Students with two-year associate degrees will earn upper-division credits in business management and can start the program as a junior. You will need to submit a supplementary BAS application.
Have Questions?
Visit our Frequently Asked Questions page for information about the application process and more.
Contact:
Tanya Knight, Associate Dean of Baccalaureate Programs
(360) 417-6242
tknight@pencol.edu
Request Information Apply Now Find Funding Frequently Asked Questions
---
Earn a BAS in Management degree and graduate ready for your new career in business or prepare to enter a Master of Business Administration (MBA) program.
BAS Management students can take generalized business classes. They can also focus their studies by earning one of four certificates while completing their four-year degree. These specializations are also available as stackable short-term certificates for anyone who has completed an associate or bachelor's degree:
Entrepreneurship and Marketing Certificate
Stay here and pay less as you advance your career with a certificate in Entrepreneurship and Marketing.
Kickstart your entrepreneurial mindset and develop a launch-ready business of your own. You can apply your coursework directly to your business—or the business you're planning to start.
Or you can pursue a career in marketing. Nationwide, workers with marketing bachelor's degrees are in high demand, with positions paying an average of $85,000 annually.
The BAS in Management with a certificate in Entrepreneurship and Marketing will help you succeed whether you're transforming an idea into a business, growing your business, working in a corporation, or pursuing a career in sales, product development, marketing, or brand management. 
Courses include project management, business finance accounting, research and marketing data analysis, digital marketing, sales and negotiation, creative product development, business planning, and a hands-on business launch class focused on entrepreneurship or marketing.
Tribal Management Certificate
Prepare to work for a sovereign tribal nation, or any entity that works closely with tribes. Earn your bachelor's degree in management and a certificate in Tribal Management to learn the history of federal-tribal-state relations; the roles of tribal leaders and administrators; and the laws, policies, and issues that impact tribal governments and communities. 
Coursework addresses fundamental management skills, grant writing, and how tribal nations' legal, political, and cultural context impact an organization's work. Other topics include tribal organizational theory and development, cultural sovereignty, trust land jurisdiction, tribal government and politics, tribal economics, and more. 
Information Technology Management Certificate
Did you earn your associate degree in Information Technology or Cybersecurity? Take your education to the next level and earn a four-year degree with an Information Technology Management certificate.
Technology is needed in almost every business—public or private, small or large, non-profit or for-profit. Our four-year Management degree with an Information Technology certificate prepares students for technology, networking, and information management careers in business, finance, telecommunications, government, and education. 
Learn the skills necessary to succeed in technology-related positions after taking classes about international business and technology, strategies and cloud technology, security architectures, threat detection and mitigation, technology and problem solving, business intelligence and data mining, database design, research and analytics, and more. 
Human Resources Management Certificate
Boost your earning potential while helping employees to thrive. PC's four-year degree with a certificate in Human Resources Management provides engagement with real-world scenarios faced by HR professionals every day, including issues related to labor relations, policy, compensation, benefits, hiring practices, and diversity, equity, and inclusion.
Pursuing a certificate in Human Resources Management allows you to learn more about how businesses operate, so you can help recruit, onboard, and train new employees while implementing engagement opportunities that boost company culture and keep employee morale high.
A certificate in Human Resource Management allows you to pursue positions like employee relations manager, benefits manager, human resource professional, or compensation manager. Nationally, these positions pay $87,000 annually.
Coursework topics include application of HR technology and analytics, principals of HR management, compensation and performance management, benefits administration, recruitment, staffing, and more.