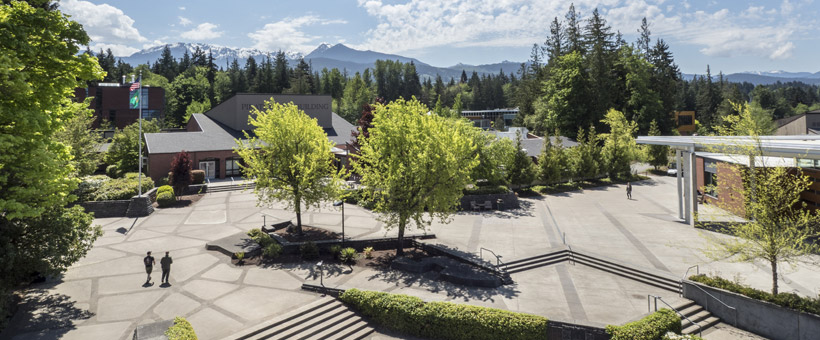 Human Resource Office Hours: Monday through Friday 9:00am to 4:30pm
Please feel free to contact us with your questions regarding employment at Peninsula College. 
Phone: (360) 417-6298
Email: pchr@pencol.edu
* The successful applicant must be able to document United States employment eligibility.
---
The Olympic Peninsula provides an extraordinary setting for Peninsula College. Our close proximity to mountains, forests, and the ocean gives students and staff unparalleled opportunities to participate in outdoor learning and recreational experiences. 
Effective November 1, 2022, Peninsula College will no longer require a Covid Vaccination as a condition of employment. This is in conjunction with the Governor's Office lifting The State of Emergency for the Covid Pandemic which is effective October 31, 2022.  The College will continue to support those who voluntarily choose to use personal protective equipment. 
As with All Things Pandemic, we will continue to monitor changes, recommendations, and guidance as it is published by all our various stakeholders.
Full-time, Classified and Exempt Staff: 
Vice President, Human Resources, Diversity, Equity, Inclusion (NEW)
Transitional Studies Enrollment Specialist (NEW)
Assistant Director - Worker Retraining Program
Program Coordinator – Corrections
Grounds and Nursery Specialist 1
Full Time, Tenure Track Faculty:
Full Time, Temporary Faculty:
Part Time Phlebotomy Instructor
Part Time Nursing Assistant Instructor
Part Time Nursing Instructor
Part Time, Hourly Staff: 
ELA Instructor, Forks (NEW)
International Program Manager (NEW)
Instructional Classroom Support Tech I
Instructional Classroom Support Tech II
Early Childcare Specialist 1
Transitional Studies Instructors I-BEST
The college community is guided by the following principles:
The teaching/learning process is at the center of the mission of Peninsula College.
Members of the campus community will treat each other with mutual respect and dignity.
Members of the campus community will be open and honest in their communications.
Members of the campus community shall promote a positive work environment and avoid adversarial relationships.
Each member of the campus community shall act ethically and with integrity.
The campus will engage in collaborative decision-making processes.
If you share these values, we encourage you to consider employment with Peninsula College. 
Peninsula College is an equal opportunity employer.
Peninsula College does not discriminate on the basis of race, creed, color, religion, national origin, families with children, sex, marital status, sexual orientation, including gender identity, age, honorably discharged veteran or military status, genetic information, or the presence of any sensory, mental, or physical disability or the use of a trained dog guide or service animal by a person with a disability in its programs and activities. Coordination of compliance is the responsibility of the Human Resources Officer, PC HR Office, (360) 417-6298.
Peninsula College es una empresa de igualdad de oportunidades.
Peninsula College no discrimina por motivos de raza o grupo étnico, color, edad, nacionalidad, familias con niños, estado civil, sexo, género, orientación sexual, veterano honorablemente descargado o estatus militar, presencia de alguna discapacidad física, sensorial o mental, o el uso de una guía entrenada de perro o atiende a animal por una persona con una incapacidad en sus programas y actividades. Durante el proceso de solicitud, las personas que tengan condiciones especiales o necesiten este anunico en un formato alternativo pueden ponerse en contacto con la Oficina de Recursos Humanos al (360) 417-6298 o TDD al (360) 417-6339.
Applications will remain on file for one year after submission.
New applicants: The recommended browser for submitting applications is Google Chrome.
Sign in OR register for new account. Sign in OR Register
Apply for job-(review terms and conditions) 
Click "Apply" 
Create your online application account
Complete the application and attach the required documents
Certify and submit; you will receive confirmation that your application was received