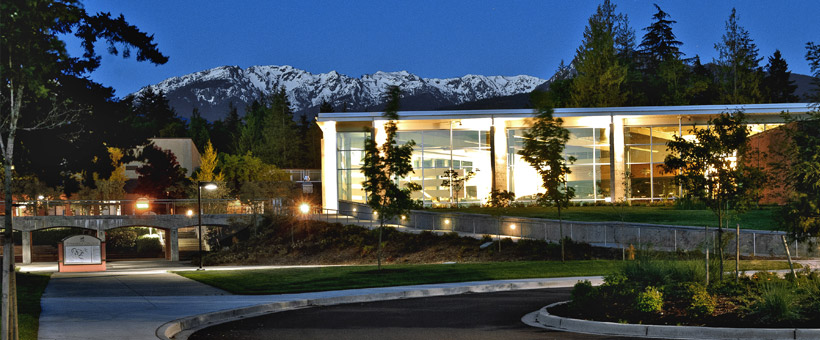 Innovative. Student-centered. World-class faculty. 
At Peninsula College, our unique environment encourages you to explore new possibilities. The college is innovative and student-centered with excellent faculty and small classes. Our learning facilities feature striking architecture and classrooms with advanced instructional technology and equipment. We offer international learning experiences and are actively involved in our local community. What's more, we provide many extra-curricular opportunities: championship athletic teams, student clubs and activities, and an array of cultural and fine arts events throughout the year.
The World Is Your Classroom
At Peninsula College, learning is not confined to enclosed classrooms or the lecture hall. Instead, the entire campus and the Olympic Peninsula become teaching laboratories as students and faculty move outdoors to take full advantage of all that our unique area has to offer. 
Anyone familiar with the college would not be surprised to find a language, philosophy, or literature class meeting in the middle of the college plaza on a bright sunny day, or to see our incredible PC Jazz Ensemble performing in front of the Pirate Union Building (PUB) Student Center. Nor is it unusual to find small groups of students and their teachers embarking at dawn for field trips to the nearby ocean, Olympic National Park, or the rain forests to discover and study native marine life, fauna, and flora in their natural habitats. 
You can even spend one or more quarters studying in another country if you choose or take language and cultural classes from visiting professors from other countries. At Peninsula College we have developed a special educational experience carefully designed for student success.
Our Setting
The Olympic Peninsula provides an extraordinary setting for Peninsula College. Our close proximity to mountains, forests, and the ocean provides you with opportunities to participate in outdoor learning and recreational experiences that are unequalled at other college locations in Washington's community and technical college system.
The services and activities of Port Angeles, the largest city on the North Olympic Peninsula, are easily accessible, and students and community members alike enjoy the opportunity to work together on projects and special festivals that involve both groups. Major cities, such as Seattle and Victoria, British Columbia, are only a few hours away, while major Native American museums and a United Nations World Heritage Site—Olympic National Park—are practically on our doorstep.
Our History
In 2021, Peninsula College celebrated 60 years of service. The college was founded in 1961 because a group of local citizens wanted to be able to continue their educations without having to travel great distances to college centers in Bremerton or across Puget Sound. The first classes were held in a small building on the Port Angeles High School campus, but the number of students who enrolled in the college quickly became more than the available facilities could accommodate, and plans were soon underway to build a permanent campus elsewhere in the city.
Construction of the new campus began in 1964, and a year later the first classes were held on the present site of Peninsula College with additional classes being offered all across our district. Today, the main campus spreads out over 75 acres of land in the foothills of the Olympic Mountains, overlooking the city of Port Angeles and its busy, international harbor.
Our facilities include a Student Services Center; Maier Performance Hall, Allied Health and Early Childhood Education Building, completed in 2017; Arts and Humanities Building, completed in 2011; a new Science and Technology Building and the House of Learning - Longhouse, both completed in 2007; Library/Media Center, completed in 2008; computer labs; a lecture hall; and a student union building, known as the Pirate Union Building or PUB. The PUB houses a theater, art gallery, food services, a bookstore, lounge area, Internet café, performance areas, and student government offices.
Additional Resources: